Poor old white Teddy DOB circa 1945 Any idea of make, age etc
by George
(UK)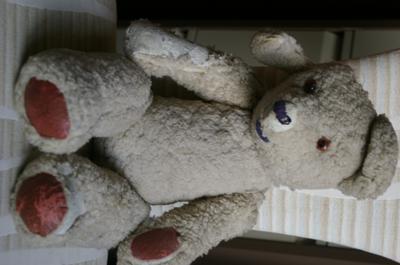 circa 1945 teddy bear
I found this teddy bear in my fathers attic and would like to know if anyone can provide dates or manufacturer. It is in a very poor state and needs some TLC. It is about 40cms/16 ins tall.
The eyes are orange and black glass. The hands and feet have red leather pads with what seems to be lambswool fur. The bear does not squeeze or growl but the head, arms and feet are jointed.
White teddy bears seem very rare and this one has probably either been through the 2nd world war or just after. If anyone can throw any light on the origin or history I would be very interested to find out. Sorry if the picture is not the right way up !