Possible Chiltern Bear Found in Bucks England
by Margaret Guest
(Regina, SK, Canada)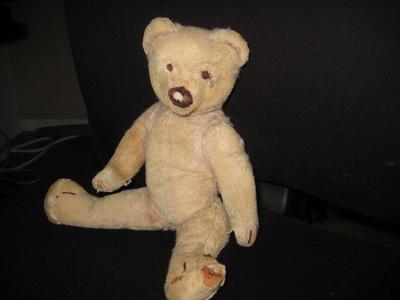 Possible early Chiltern bear
My thoughts are that he is an early Chiltern Teddy Bear, possibly my mothers when she was a baby. Found in my grandmothers house in Slough Buckinghamshire England, my Mother was born in 1919. My grandmother died in 1962 and I have loved this bear for the past 50 years.


12 inches tall
Wood chip filling head and body arms feel a bit softer.
Jointed
Very worn
Eyes replaced by stitching
Nose over stitched
Pads appear to have been covered
Arms go to top of thighs and slightly turn up
Legs have wide thighs and narrow ankles
Three claw stitches
Can feel a growl box but no longer works.
Comment
Unfortunately often the yes and nose are one of the main features to identify a bear by. The fact that this lovely bear has been repaired over the years does make it rather difficult to say for sure what make of bear he is.
He could be an early Chiltern bear, he does have the look of a 1938 Hugmee bear , but the ears look a different shape to the early Chiltern bears i have seen. Of course it is possible that his ears have been replaced or re-sewn over the years, which has changed their position on his head.
He certainly does look well loved and I'm sure he has brought many smiles to you and your family over the years. So it doesn't really matter much as to his pedigree as I'm sure you would never want to give him up.