Sad Teddy left at the OP Shop
by Eric
(Metung, Australia)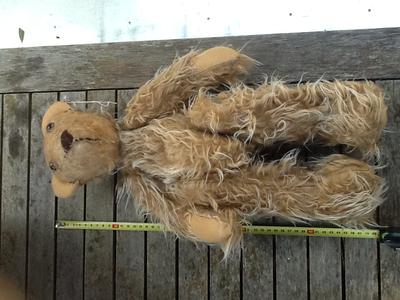 Body length
Hello to all the Teddy enthusiasts out there! We recently found this sad mohair teddy all alone on the to shelf at a local Op Shop.

He is a fully articulated bear with what appear to be the original matching buttons holding the arms and legs. He is also in very good condition with very little loss of coat. The exception is his face which does very short and patchy cover.
His coat does feel like mohair which is a tan and cream colour.

Teddy stands approximately 50cm tall (or lying down). The articulated legs are 28cm long and the arms are 26cm. The body is approx 20cm from base of head and 10cm at widest point. The head is approx 11cm from crown to base and similar across widest point.

The eyes are both original and appear to be glass. The nose is triangular and woven using brown cotton/wool. This same brown cotton/wool has been used to attach the ears using "cross stitch".

The paws and ears are made of felt - in a matching tan colour - also in very good condition.

We were hoping that someone may be able to help identify our "rescued" bear. He has now taken up residence with another 60 bears and hopefully we can add a name based on whether he is recognised or whether he remains a mystery bear.

Many thanks for taking the time to review my post and I hope to hear something soon!