Searching for another bear like mine for daughter...
by Kim
(Stockbridge, GA)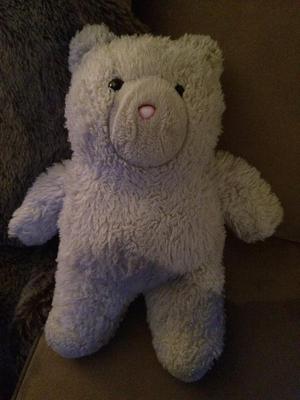 My Bear Snowball
I am so glad I came across your site! I have been searching for my bear for a really long time. I received him sometime between 1984-1985. He has been in my life every day since. I have a home video where he is a guest at my second birthday party. I am trying to find another bear just like him for my daughter's second birthday party. She loves mine but he is so old I worry that too much play will cause him to tear beyond repair. My mom believes she purchased him at Treasury Drug Store. He had a dark velour nose that has since worn down to pink/white. He is very fat with stubby legs and feet and an adorable tail. He was very soft and still is in one spot under his tail. His tag has long since torn off but what can be seen is that is was outlined in dark brown and a small "k-7" can still be read. His eyes are brown with black pupils. He means the world to me and my daughter. I cannot tell you how much any information you can give me would mean to my family! Thank you!
Join in and write your own page! It's easy to do. How? Simply click here to return to I.D Your Bear.
If you enjoyed this page, please consider sharing
 it with your friends: