Searching for my childhood 1970s teddy bear!
by Inger
(Austin, TX, USA)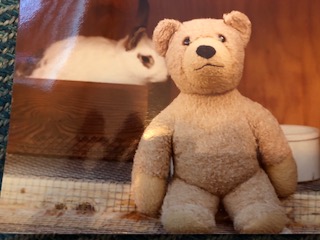 Childhood bear
I would sooo love to find a bear like my childhood bear from the 1970s. I named him George and loved him more than anything. I'm not sure where I lost him along the way, and i have no idea what his brand is or where he came from! He fit in the snoopy clothes that you could buy back in the 70s, so I would dress him in those clothes. He was soft filled, and his wasn't jointed or anything. He had a longish nose and a dignified expression. Thank you in advance for any help!
Join in and write your own page! It's easy to do. How? Simply click here to return to I.D Your Bear.
If you enjoyed this page, please consider sharing
 it with your friends: