Shovel(?) marked foot starry eyed teddy bear
by Kelly
(Hayden Lake, ID USA)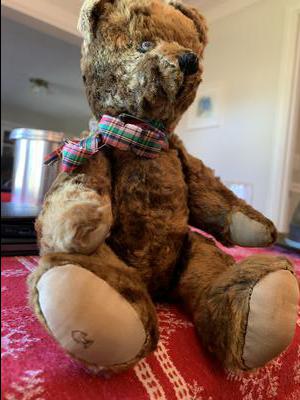 Shovel(?) marked foot starry eyed teddy bear
I found this sweet vintage teddy bear - and the paws are made of silk I think and one foot is embroidered with what appears to be a shovel? I love the eyes - they are starry buttons and the nose is sewn….it's fully jointed. This sweet bear is approx 10" tall - I think she is a type of
Mohair bear. I have collected vintage beats for some
Time and I just do not recognize this particular little
Gem! I found this at a local thrift store for a sweet price!