Small Teddy Bear Of Unknown Origin
by George Shoji
(Kyoto, Japan)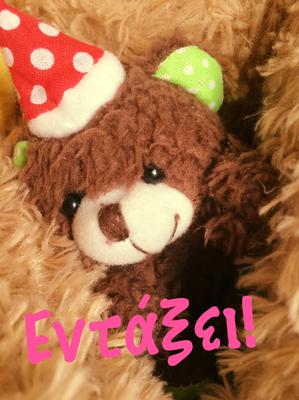 smal teddy bear with red hat
A family present, this teddy bear can fit in the palm of most people. While unsure of its filling, it is on the firm side without being stiff.
He originally came wearing a red party hat with white dots, in a pattern similar to the one on his feet and ears, which are lime green with white dots.
He was possibly purchased in Greece around Athens. His coating was a chocolate brown fluff that matted over time. He has a stumpy round tail and the eyes are half-beads held in place with a little white string. He is wearing a bright yellow scarf around his neck, trailing down his back a little. I don't think it's a particularly old one. The bag seen in some pictures was added by us later.
If someone can identify him we'd greatly appreciate it.