Steiff Teddy bear? Can you help me identify?
by Cynde
(Sonora, ca)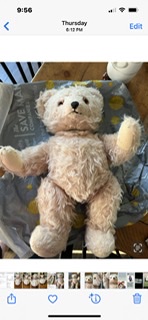 Teddy bear
I recently found this Teddy bear amongst many other stuffed animals in a box. I immediately recognized the wool mohair from all the others. My mother in law had a small bear from her childhood that was mohair, so that helped me identify it. The mohair is quite long. At first I thought she might be a Knickerbocker bear, but with more research and process of elimination, I have come to wonder if she has lost her tags and could be a Steiff bear? Any help you could give me is very appreciated.


I have examined the bear extensively and made notes, so I hope this will aid in the identification.
"She "( what I am calling her) is an interesting color. She is faded some but in her creases she looks pink or maybe a little peach looking. There is definitely another color in her creases.
I have tried to measure her correctly and I have found her to be 14". Possibly 15"?
Her Body is stuffed with what I believe to be Kapoc but I am not sure. I do not feel or hear a crunch when pressed. I was able to use tweezers and pull a small amount of her stuffing out to examine and it definitely looks and feels like Kapok. Where her head is joined, I see the same heavy cotton thread, almost like a fine string. There is a small amount of a grey fabric that looks like in making it, the mohair fabric was a little too short, so a small piece was added. It is all around the very bottom of head and I think it would not be seen if her head was attached a little stronger. Her head is a wee bit floppy now.
Her paws are made out of wool felt. Both arm paws have a few moth holes. Both on her her arms and legs they have an upturned shape. The arms would not be considered long compared to the photos I have seen of the earliest bears.
She is a five way disc jointed bear and her head can be turned almost all the way around. I can feel discs both on the limbs and on the body. One of the legs I can see stitching, where it was first attached.
The very thick cotton looking thread can be seen.
She has a center seam in both the front and back of her torso. I don't see any seams on the back of her head. Her head is seamed from the top part of her ears vertically down to her snout. Her nose is stitched vertically in black thread, in a "shield shape, although there are a couple of black threads that look like they were worn and are broken, but mostly intact.
She has a very pronounced hump on her back. She seems to have 4 claws because there is a black line marking on all four of her paws that extends lightly up onto the mohair, in a couple areas.,but no thread stitching, remains. I assume it came off and left these black line marks, but I am a little confused about the black markings on the wool felt as I have not seen this on any other pictures.
She has very large black and gold glass eyes with the black being the pupils, but one has been broken in half. I measured them and they are almost 3/4" across. I can not feel a knot at the back of the head. I can see from the broken one that the shank seems to be deep and the thread I can see is a cream colored thick cotton? ! I can see this same thread on one leg where it was sewn together, so I am not sure how the eye is attached exactly except the little thread.
Her mouth is all intact and stitched with the same black that her nose is stitched in. The ends of her mouth are a little upturned maybe a tiny smile??
Her pretty large ears have a curve to them at each ear at the top.
There is some wear to her snout and very minimally around the felt pad in the mohair around one foot. Very minimal mohair loss. I wonder if she had been sitting on a shelf for many years?
I have looked extensively in her ears and belly seam to see if I could find the remnants of a tag in either place and I was unsuccessful..
Thank you for looking at my bear and for any comments you are willing to make!