Still unknown who made this guy
by Joseph F.
(Pomona, CA)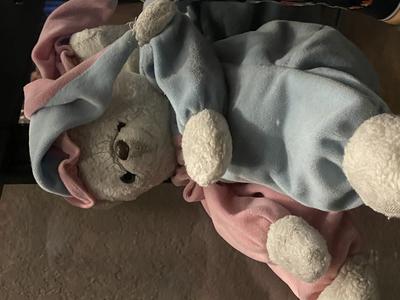 Hello, this is my bear. His name is BC, or Bear Clown. Someone else had posted a picture of his brethren, and it is literally the only other one I have ever seen, so hopefully this post helps.


Their's was fashionable and has a collar, but I'm sure I was hungry as a child and decided it would be better suited as a snack.
He is 32 years young as I received him when I was an infant in 1988. I have no idea who or what company made him but would love to know more. Please excuse that his fluff has sunk down; he never did stick to that diet he was going to do.
My mom did try to find someone that could re stuff or a brother for him, but was never successful in finding any information on him. She probably searched from 1990 - 1997, so I believe BC is from the 80's.
Any information is helpful, and I hope this post helps anyone else looking for information on theirs.
Distinct features:
Pastel blue and pink costume and hat with cotton tip
Dark brown nose
Has cotton hand and feet poking out
Pink trim along entire rim of hat
Eye seems to get covered over the years(happened to his brethren at least)
*Could be from Prestige Toy Corp* I've seen this name floated around as it was popular in the 80's, and I've seen other animals of the same style.