Strange straight Vertical nose teddy bear
by Vicky
(West Yorkshire UK)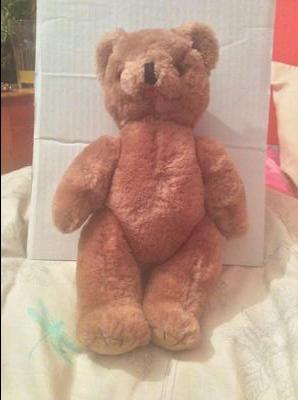 As far as I can remember, my bear has always been mine. I couldn't honestly say how many years, but I think I have had him at least 30 to 40 years. He was never a bear that I wanted to cuddle as his fur always seamed prickly.
His arms and legs are jointed and have 3 stitches for paws. The head is not jointed and has ( what I think are glass eyes ) his nose is in one piece and is the shape of a vertical oblong [] and his mouth has a small red felt tongue.
His total length is 12" and the width is 8".
I do not remember if he ever had any tags or buttons but he crunches when squeezed and is pretty solid.