Teddy 1964
by Maria
(Brussels, Belgium)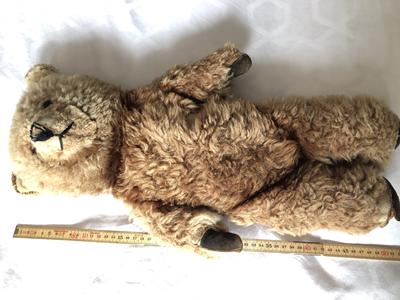 Beloved Teddy Bear
Bought in Västerås, Sweden year 1964. Was a Christmas gift. First my parents didn't want to buy the Teddy as it was the most expensive Teddy bear in the shop.
Materials; dark brown sheep fur, paws black suede, eyes glass, nose stitched black wool, filling wood wool.
Has an integrated noise maker (no longer functional)
Size 50 cm height, arms 17, legs 20 cm
Teddy has been repaired a couple of times in the 1960s by a man doing upholstery. Couldn't sleep until I got my Teddy back from repairs.
Teddy has been the most beloved toy, and wherever we moved to my Teddy comes with.