Teddy bear blue
by Anne M
(Dorset UK )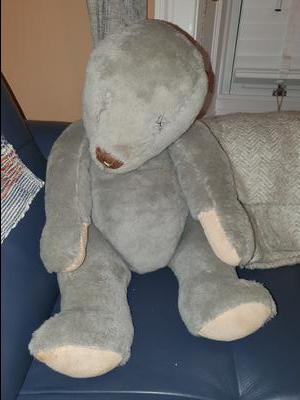 My bear was given to me when I was a baby in 1960.


My bear is a large bear standing 2ft high.
My bear has fully movable joints and his head also moves around. My bear has a brown stitched nose with a tiny white stitched patch on the very tip of his nose. My bear also has a brown stitched mouth like a smile its all intact.
My bear has two stitched panels for each leg plus a sole. My bear has two stitched panels for his arms plus his palms.
My bears head is made in three panels with one section over the central part of his head to his nose, the other two sections comprise the cheek area and join under his nose.
I am sure my bear had glass eyes but i do not remember the colour or size of them.
My bear also growls when he is turned on his tummy and sat back up again. My bear is a grey colour which I believe is called blue bear.
My bear has woven palm of his hands and also the soles of his feet in a beige type colour.
My bear struggles to hold his head up now, his nose rests on his chest.
My bear had grey ears which came off him when I was a little girl.
All the rest of his fabric is in really good condition considering his age.
I do not know the maker of my bear, I did think he a merry thought bear but he does not have a label on his foot. I'm not familiar with other teddy bear makers but am pretty sure he was made in great Britain.
I would love to have eyes put back in place for him to sit with pride and not scare my grand son.