Teddy bear from 2010/2011
by Christine Mulligan
(Bristol, England)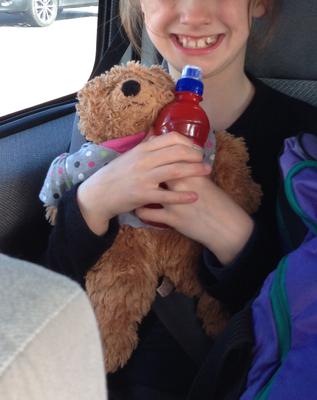 The top is one which my daughter put on him,
Hi there - this teddy bear was bought for my daughter who is autistic in either 2010 or 2011 from a gift shop in Dawlish, England. unfortunately it is now lost and I have no idea what make it is. I have scanned Ebay and Google desperately trying to find a replacement but have had no luck. It is not jointed and is quite floppy, and unable to stand up. I think there were beans in the arms and legs, it has black paw pads on the front paws (and possibly the back) Any help to identify the make of it would be amazing so that I can source a replacement for my daughter who is struggling without it. It didn't come with any clothes or bows, The top which it has on in one of the pictures is one which my daughter put on it. The colour of the bear is golden brown and is quite soft and fluffy. She used to take it everywhere with her and to her he was real and alive. The bear was well loved but I would be happy to find one in any condition. I'm pretty sure it wasn't a Steiff bear but I can't rule out any make. His nose and mouth are stitched and his mouth is a slight smile. His ears are quite small and set quite far apart. I am so upset for my daughter and would love nothing more than to be able to get a replacement. I've tried looking up Gund, Ty, Russ, Jellycat on Ebay and have found some that look a little similar but unless it's the exact one it will be not be any good, The label is at the back just next to his very small tail as you can see in one of the pictures. I hope someone can help me identify him.
Join in and write your own page! It's easy to do. How? Simply click here to return to I.D Your Bear.
If you enjoyed this page, please consider sharing
 it with your friends: