Teddy Bear From Across The Pond
by Shawn Butler
(Sandusky, Ohio USA)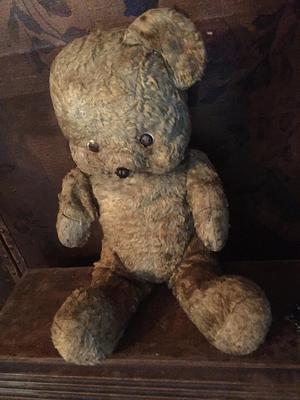 Old teddy bear
Hello,


I recently purchase this little guy from across the big pond in Wisbech, England, United Kingdom, from antiques dealer. I am the Founder and Leading Curator for a small toy museum in Ohio. I specialize in the preservation, and exhibition of vintage toys.
Unfortunately, teddy bears are not my forte!
I sent an inquiry to another toy museum to see if they could help with identifying the bear, but they were unsuccessful.
The teddy bear is to be one of our key peices for our Antiques & Vintage Christmas Toy Exhibit in December, and i want to do a wonderful and extensive write up on the bear, for it will be the oldest peice on display.
The reason i fell in love with this teddy bear was because of its condition, and its age. The antique dearler had teddy dated 1910 to 1915. So i know this bear has seen a lot!
If teddy could talk, i wonder what kind of story he would tell. A story full of sorrow, or a story full of love and laughter, or maybe both.
The only additional information about teddy was that he has metal shoe button eyes, fully metal jointed, stuffed, and with mohair.
I asked the antiques dealer if they could share any additional information about the bear. Where did it come from, how did they obtain it, and most important who was the manufacturer.
They have not replyed!
I am unable to find any information or pics to compair the bear too. I have spent countless hours surfing the web, and calling local historians to see if they may be able to help.
Can you help me further identify my bear with the manufacturer and acurate date.
Thanks,
Shawn Butler