Teddy Bear Identification Needed
by Victoria Lam
(Los Angeles, CA)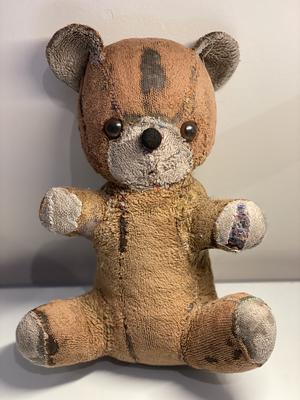 teddy bear with short legs and arms
Hello, I was given this teddy bear about 40 years ago (late 1970s) and I have slept with him and cherished him ever since. He is my best friend and goes with me everywhere still. I have always been curious as to his origin because he is pretty unique looking. He measures 13.5 inches tall and 9 inches wide (from foot to foot). He is heavier (i think) than your average teddy bear and is built very solidly! As you can see, he has had multiple surgeries over the years. He used to have a tongue but that got yanked out by my sister when I was a kid. My parents' friend originally gifted him to me and he said he purchased him at a swap meet somewhere in or near Los Angeles. I do not recall him ever coming with any tags.


I would LOVE to trace his history, if anyone happens to have some insight. Thank you so much in advance!!
Join in and write your own page! It's easy to do. How? Simply click here to return to Other Color Teddy Bears.
If you enjoyed this page, please consider sharing
 it with your friends: