Teddy Bear That Was A White Elephant Surprise
by Christine
(Plover, WI, USA)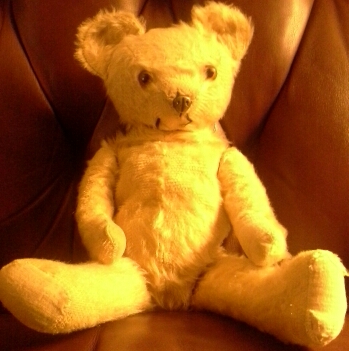 Full body
I got this teddy bear as a kid at a grade school carnival in 1977 for $1.00 wrapped in newspaper at a white elephant booth. I lived out west then (don't know if this matters or not. Are there teddy bear manufacturers that only sold out west?) I have been intrigued ever since on his "ancestry". I'm hoping with the help of the internet I might get farther.


He is 18 inches long, his arms and legs are jointed including his head which can turn all the way around. He is well loved so the fur is partially rubbed off. It is a Golden colored, short mohair. I believe he is filled with straw or kopak. When I squeeze him, he is lumpy and the filling is not soft and a little compacted. I don't feel a noise box. He has a metal formed nose, perhaps tin as a magnet is not attracted. It appears there might have been color on the nose, dark brown? His mouth is black yarn. The mouth was one piece of yarn, not embroidered but obviously pulled up into a triangle shape by the stitch under his nose. It appears his muzzle was shaved. It was not made from a separate piece of clothe, but shaped from the head into a triangle. His eyes are amber with black centers. I think they are plastic but not sure. He is humpbacked. His torso is long and narrowish The hands and feet are velvet covered and long oval shaped.The arms are long, thin, and slightly curved. They are placed low on very sloped shoulders or you could say he has a long neck. His legs are long, thin, straight and the feet are shaped into like a boot shape. The ears are large and round, they are shaped to have a curve. They are created from seperate pieces of cloth and attached to the head. I cannot find a hole in his ear which seems to rule out him being a Steiff. I have inspected all the seams and cannot find any evidence of a label or tag. From my research I would say he is from 1920 thru the '30s.
I hope you all can help me. Like I said was well-loved in his Youth and appears to be very well made.