Teddy Bear
by Tim
(Ontario Canada)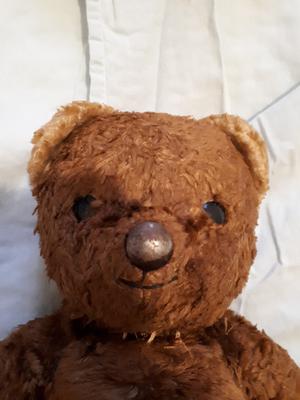 Dark brown teddy Bear
The Teddy Bear that I have is of Dark Brown with Tan ears and paws. It's head is Hand sewn on to the body, it also has a steel Black nose and its eyes are black as well in color . It stands twelve inches in height and probably about 4 to 5 inches wide. There is no visible markings on the paws or ears that i can see. I came a pond this at a Auction back home here in Canada.I bought a box lot of nothingness and i come to find this in the box in a bag near the bottom of the box.I have not cleaned it up or anything. I would love to find anything close to this Bear i have. for I have looked on many sites and to no avail i have struck out to find anything close to what i have. in fact I have not found any teddy Bears with steel black noses with steel black eyes.too me its looks like one from the first world war era or maybe earlier.


I would love to have more info on this and I have submitted 4 photo's as well to this blog. please email at tim_mckinnon40@hotmail.com
Join in and write your own page! It's easy to do. How? Simply click here to return to I.D Your Bear.
If you enjoyed this page, please consider sharing
 it with your friends: