Teddy no name!
by Milli Palmer Allen
(Devon,England )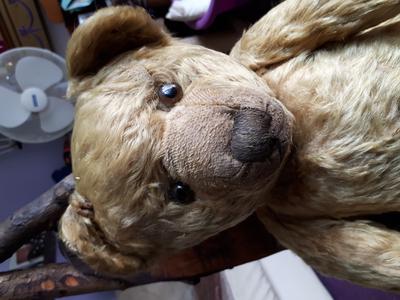 Teddy No Name
Hi im teddy no name,I was given to my first mum in 1924,she was never allowed to play with me and was only allowed to handle me very carefully at Christmas. I was given to my present mum in 1988 and every so often she tried to find out about me. I wasn't new in1924 and although I am old i have been kept out of sun light and away from moths! My eyes are glass,my nose is sewn,I had a hump and growler(not working) and i have a thick knotted string in the centre of my tummy,I am roughly 50cm tall and my fur is still really golden. Please can anyone help my mum to find out more about me? Thank you
Join in and write your own page! It's easy to do. How? Simply click here to return to I.D Your Bear.
If you enjoyed this page, please consider sharing
 it with your friends: