Teddy unknown
by Pam
(Peoria Arizona USA )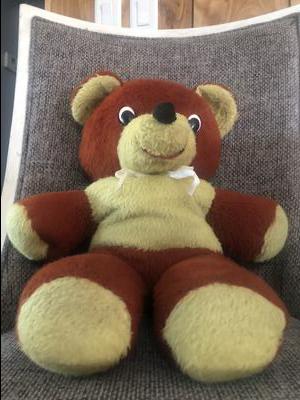 This Teddy is like a burnt orange type of brown,
except for torso area, inside his ears as well as
ends of arms and legs, they are a yellowish tan.
There is a white bow around his neck. The
material, I don't even know what to call it,
I'm not good with that. Maybe you can tell by
the by the picture, but the inside is is dry and
small pieces of I don't know what. There are no
rips, and no stains. The eyes are plastic and
painted. It's sewed with white clear stiff thread
Im not sure, maybe it's like fishing line.
I apologize I'm just not good with names of
different stuff. This Teddy was given to me from
my sister's friend who had it all her life and she
was born in the 60's. So it's pretty old but,
but I don't really have a clue. Any help you can
give will be really appreciated ! Thank you for
taking time to read and share, enjoy your day.