The bear who doesn't know who he is.
by Sherrie McCorriston
(Scotland)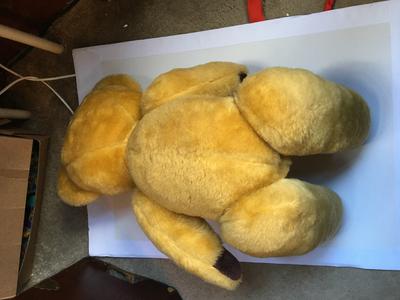 He is very sturdy it feels as if he might be filled with a sawdust type material his arm and leg joints feel wooden his eyes are an orangey color with dark brown pupils that feel plastic. His nose is a black kind of gray looking tweed material his body is a golden Blondie brown with brown material on the bottom of his paws. I Volunteer at a local charity shop where he was donated and he really stood out as he feels very well-made and is in good condition so probably not an antique. So he makes us kind of gurgled growl when you've been to him for forward.