The Family Teddy Bear
by Lavender
(Oregon, United States)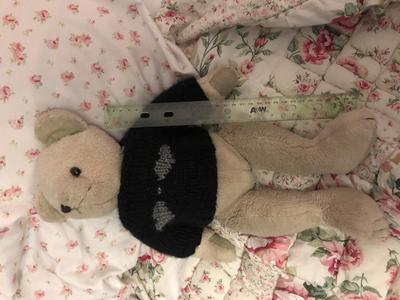 Front view
I've had this bear since I was a kid but I got it from my older brother who is 7 years my senior. I know it must be at the very least 25 years old since he had it before I was born and I've heard my grandmother say that the bear was gifted to us by our great grandmother as it was her bear. I don't know if that means it was her childhood bear or if it happened to be a bear she liked and bought as an adult, since it doesn't look like the type of bears I've seen from early 1900s.


My teddy (Wojtek, or just Mr. Bear), is very soft to squish and has kind of beanie-bag feet if you could call it that. It feels like his little paws and feet are filled with beans or rice but the rest is just incredibly soft stuffing. I take really good care of him so he's in pretty good shape, no holes or rips as I've patched him up whenever anything like that has happened. Oh also I don't know if this is super important but my family is a mix of American and English, as in lots of us are from England and some have settled and stayed in America. We moved to America a few generations ago but quite a few of my cousins/aunts/uncles still travel between so there's a good chance he's not American made.
He didn't come with the sweater, I actually knit that for him and I have a few others too that I switch out occasionally because I love him. I can't seem to find any teddies that even look like him though, and if I'm being honest I feel like he's the best one ever, hands down. I wouldn't sell or give him away for anything in the world, but I really want to know his story and where he comes from. His legs rotate but are also floppy, same with his arms. He's soft and cuddly, just the best teddy ever really. The tag on his backside is completely rubbed blank so it's no help in identifying him but it makes me think he did come from a store somewhere and wasn't handmade.
So, does anyone know who Mr. Bear is?