This Sweet Old Bear Was a Find at the Bargain Barn!
by Penny Andrea
(North Port, Florida)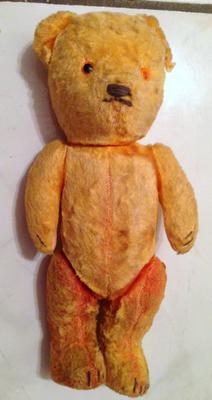 Sweet Old Bear
This dear sweet old bear was a real find at the local bargain barn. When rummaging through the stuff on a table, he popped into my hand and I was shocked that this charismatic item, which has obviously been so well loved, was headed for the crusher if nobody rescued him!


I took Teddy home and set out to see if I can find his origin, since I don't know much about bears. He bears no sign of having had any tags (pun intended).
He's about ten inches tall with jointed head, arms, and legs. He may be mohair, but I can't really tell, although his fur appears to originally be a very reddish-golden brown. It is faded everywhere except towards the joint edges. His fur is worn, but not at all threadbare. The bottom of his feet are two ovular pieces of cloth, one of them stained.
His arms and legs are somewhat short and stubby with three sewn claws on each. His nose is short and sort of smushed in, sewn using the same dark brown thread as his claws. I believe his stuffing, which is rather rigid, is what they call wood wool, but nothing is protruding to get a better idea. Teddy is in fairly good condition if he is indeed as old as I am guessing him to be.
One of his ears had begun to detach and was reattached, but all other seams seem to be good and tight. I guess Teddy must have had a retinal detachment because one of his eyes (glass? plastic?)is missing the center lens.
Please help Teddy remember his roots. (I might even consider selling him to a good home with other bears.)
What a gorgeous little bear, I love his golden fur. He certainly looks well loved, as all good teddy bears should be.
Hopefully someone may be able to identify him for you.