Thought it was a Charlie Bear
by Tanya Purdy
(Ocala, Fl. USA)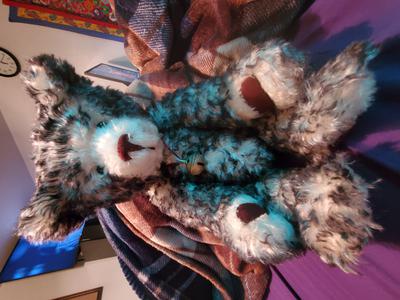 Four or so years ago I bought a bear at a thrift store. I remember looking up the information on the tag but, I couldn't find anything. Yesterday I bought my first Charlie Bear. It reminded me of the one I bought years ago. The sales person gave me a book. I looked through it and saw that some bears have bells. So does the TSB one. (TSB will be Thrift Store Bear). TSB has a long narrow tag sewn at the top middle of the back just below the neck. In pen and cursive writing is, KSK FUREVER YOURS. all caps. On the other side is the name Kathy S. Klages.
The fur is black tip color base is eggshell. Short wavey hair. Maroon nose made of velvet on eggshell fur muzzel. Small beady eyes. Brass bell around the neck on a thin maroon satin ribben. Hands have maroon velvet pad areas with black thread making it look like toes. Also on eggshell color fur Like mitten no glove. They are not stuffed individually to make fingers. Feet are the same. Head and extremities swivel. Weights maybe two pounds, feels like it's filled with sand or the plastic beads used in a weighted blanket. I live in Florida. I went to Asheville North Carolina this weekend and fell in love with a Charlie Bear named Tully. I really thought the Thrift Store Bear was a Charlie Bear too. They feel so similar. Maybe the name is Kathy Kluge? Ebay has a tote bag for sale with that name. I see her company is out of business when I spell the last name with a U instead of an A. I don't see any teddy bears made by this company or this woman. I made a post in a bear group on Facebook and it has people from all over the world and no one can identify the thrift store bear. Thrift store bear is in very good condition. Only has the one tag that is sewn into it's back. The swivel parts feel plastic and still rotate stiffly. The head does not have any sand or beads in it. Maybe it's a plastic type of mold with some kind of padding around it. It's soft but firm. There is a mouth but, it's made of black thread, like the paws. The mouth is in the shape of two J's back to back. Like if you were to draw a simple cartoons type bear. Thank you for helping me find the origin of my adorable bear.
Join in and write your own page! It's easy to do. How? Simply click here to return to I.D Your Bear.
If you enjoyed this page, please consider sharing
 it with your friends: