Three Favorite Brown Teddy Bears
by Jill
(London)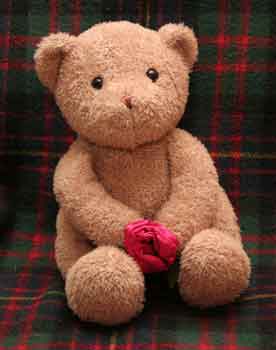 Funny Face Teddy Bear
This First Bear is called funny Face and was given to me by my son Andy for Mothers day many years ago. There is no label on the bear but i do love the expression on her face and the added rose in her paws really does make her very endearing. As she was a present from my son I shall never part with her.


The next bear is called Scruffy and he was won in a raffle prize. He belongs to my grandson David now but still lives with me. I knitted him a scarf as I thought he looked very grumpy possibly due to the fact that he may be cold. I love his face and he has tiny little ears on his head although you can hardly see them. Again he has no labels on him.
Another present from my son was my "No 1 Mum" teddy bear. He's a small bear holding a pink heart shaped cushion. He is a "Gund" bear and his label reads "Thinking of you mum, I Love You". He sits on my bed with my other bears and is the only one I have holding a worded item. I know there is a fashion for Teddy Bears holding some sort of message but I must admit I do prefer my teddies to be just teddies.
Join in and write your own page! It's easy to do. How? Simply click here to return to Brown Teddy Bear Pictures.
If you enjoyed this page, please consider sharing
 it with your friends: