Tracey's Teddy
by Tracey
(Calgary Canada)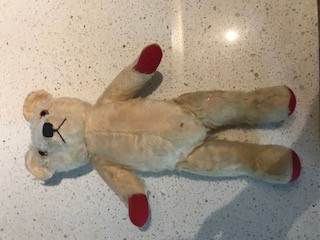 This little guy is about 12 inches tall, has a soft body and straw or harder material in his head head. He once had a music box in his belly but he was washed once in the washing machine and it was ruined so it was removed. He has glass eyes and an inverted V or Y Mouth. His Fur is Mohair not synthetic. His pads are felt and they have no claw stitching.


I have had him since 1964 when I was born and do not know where he came from. I have no interest in finding out if he is worth anything I would just like some background on him if possible. He is in horrible condition but he is still well loved. If anyone has any cleaning tips that would also be greatly appreciated.
Join in and write your own page! It's easy to do. How? Simply click here to return to I.D Your Bear.
If you enjoyed this page, please consider sharing
 it with your friends: