Trying to identify this stuffed toy so I can see if it's possible to replace this missing soul...
by Katrina Fuchs
(Winnipeg, Canada)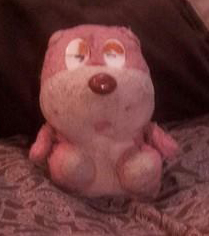 Have had this 'bear' (I called it a tasmanian devil since I was 3 might be a chipmunk etc not sure at all) since I was 3 (1989) was previously owned. He has always been a dusty pink colour, his belly and muzzle white, and the bottoms of his feet a 'blue' tone. his inner ears flip up, to reveal a blueish purplish fabric (not the short fur like the rest of him almost like a high end smooth fleece)


The closest fabric I can find similar to his main colour is Cuddle Fleece/Minky (Depending on the site) In Paris Pink, while the blue on his feet is similar to the current saltwater colour of the same fabric (Found on Mendels) Obviously this is current versions of those colours but unfortunately he's gone missing so I can't get better shots of him for colour.
His eyes WERE formally fairly set, however they spin now and are a hard resin. His nose is also a hard resin
had felt tongue and three freckles originally on each side of his face. Tongue was glued on originally, and has had to be replaced multiple times over his years.
Has a tag on his bum, but hasn't had any discerning markings on it that I EVER remember, USE to squeak or make some sort of noise (hasn't made that noise since before I was three when my friend owned him and I don't remember it assuming a squeak due to his name, I was creative with my animal names not my naming convention) when you bopped him down hard on a solid surface. Squeaker was still inside him and would faintly rattle if shaken.
Roughly a ball shaped teddy, less than 6 inches in height.
Has gone missing from my home. Not sure if stolen or what has happened (Or if someone hid him in my home and I just can't find him). Desperate to find out more about my missing friend so that if I never find HIM I may be able to purchase one somewhere maybe (Reverse Google search comes up with nothing)