Two Bears, Dark Brown and Blonde.
by Scott
(Michigan)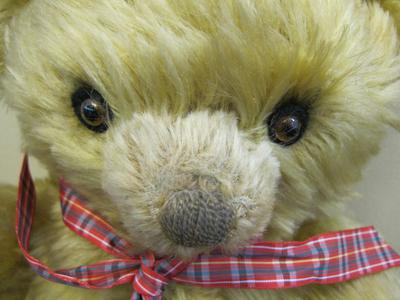 Blond teddy bear
Two bears for your consideration. This is my first time posting to this site. If you need any more information I would be happy to try to provide whatever you may need!


The blonde bear has glass pin eyes, with black felt circles behind them. It is mohair. Measures roughly 20" in length. It is fully jointed. I think this one may be a knickerbocker, but this is based on a few photos comparisons. It does appear to have age to it. Some fur loss. Needs a cleaning.
The other is dark brown, or black. Roughly 23" in length. This one is fully jointed. Black felt pads. Synthetic fur. It is well made. No signs of a tag.
If anyone has any idea on maker of these please reply. Any ideas on value would also be very appreciated.
I'm not sure why there is a 400 word minimum here. I really don't have much more to add to the descriptions. I think the photos will speak more than the words. This must be getting close to 400 words by now..