Two Giant Brown and Grey Vintage Bears Australia
by Dale
(Gold Coast Australia)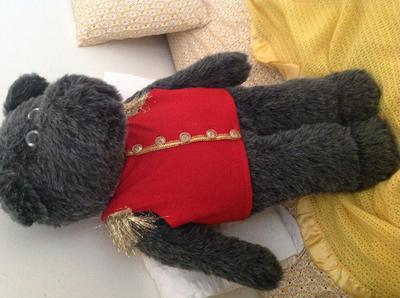 Australian teddy Bear?
I can't seem to find out anything about these bears or find anything similar to compare too. I have reluctantly decided to part with my much loved bears but have no idea how much to sell them for. They have been in the family for many years and no one seems to know anything of there history, it not until I decided they could go that I found an almost obsessional desire to find out we're on earth they came from. The grey one is is Edward he is standing bear, with weighted stiff legs, about 34" tall and is in a thick two toned grey, he has jointed arms and turning head. He has plastic or maybe glass, not sure eyes that seem to be glued on. He is wearing a red felt vest with glass/gold buttons. His vest is trimmed in a tinsel eppolette and gold brocade. The other bear is Tilly, she is 34" high in a light camel colour with matching colour velvet feet and paw pads.I think they must be the same vintage because the eyes also glued on either plastic or glass eyes, she is a sitting bear with jointed arms and legs. I think the dress must be original because she has matching bows glued on both her ears and down front of her red, blue, green tartan dress. The dress has a cotton looking lace overlay bodice with a sinthetic looking small ruffle at the neck. There are two small floral lace bands on the sleeves. The dress is closed at back with Velcro closure and metal strap studs. Any direction with finding who maker may have been would be greatly,appreciated.
Join in and write your own page! It's easy to do. How? Simply click here to return to I.D Your Bear.
If you enjoyed this page, please consider sharing
 it with your friends: