Unknown Priscilla Bear Brand Henry Davis and Co
by Ken Van Wyck
(Canada)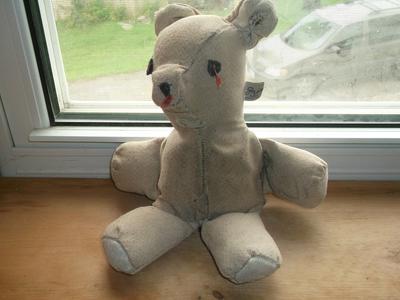 Priscilla Bear
Unknown Priscilla Bear, Brand Henry Davis and Co. Made in Canada


I found this bear in the attic of the house we live in.
He seems to be very old and called Priscilla. The bear seems to be unique because it has no fur and is hand stitched. Our house is a century home built in the late 1800's.
It's legs are 3 inches long and it's arms are 2 inches long,the body is 3 and a half inches long by 5 and a half inches wide.its head is 4 by 4 inches big and it's ears are about 1 1/4 inches long It is tan brown in colour with dark brown eyes and nose.I think she is stuffed with straw?
I have tried to find out about this bear and where it was manufactured in Canada.
I have go-ogled Priscilla,Henry Davis & Co to no avail.
Any information about this bear would be greatly appreciated Thank's