Unknown teddy bear no tags
by Arlene
(California )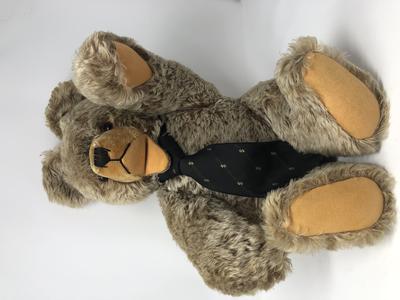 I got him with some other bears and plush yesterday from an online auction. He has no tags or labels and his ear has come unsewn on each end about an inch I was feeling him and he kind of crackled when I was pushing His tummy. Then I heard a growl sound. Lol. I kept pushing and every once n awhile he'd make that noise, but not every time.


His arms and legs move up and down and he's about 23-23 inches tall. He's so cute with his tie with the dollar signs on it
I had him up on Mercari today to sell for $20
And I got a message from a lady telling me that he was a Herman Zotty bear and I could get a lot more than $20 for him. I thanked her and told her I really appreciated what she told me. She didn't have to do that at all.
As I was pulling my listing another person wanted more information. I then pulled my listing on eBay snd FBMP
As well. I'd love any information anyone can provide. There's no tags or labels at all.
He weighs 3 pounds 2 ounces. He has tan fabric on His hands and feet. His mouth is open and he looks like he is smiling. I don't know what his fur is either.
Know absolutely nothing about teddy bears but I like this one. I don't know the difference amongst any of the bears but I need to educate myself. I have no idea how many words I ve put here but. Hope there's enough to qualify for assistance.