Unusual Golden Bear
by Sarah H
(Sherborne, Dorset, UK )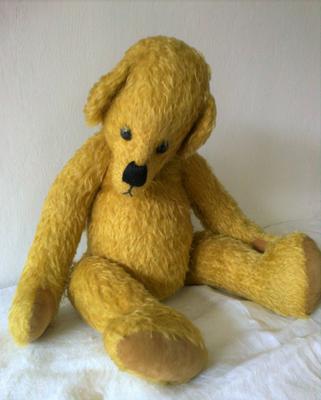 Golden bear
I do hope you can help: I have what I think is an unusual teddy bear.
I bought him a few years ago because I'd never seen a bear like him and so would love to know more about his manufacture.

This bear is a lovely golden colour with a long centre-seamed face with shaved muzzle and close set eyes. His nose has a pinched look to it and the end is soft and black. I believe he may be mohair and has velvet paws. Both body and paws feels soft to the touch. He has very long jointed limbs - his arms are so long that they reach the floor when he's sitting down. He's full and round in the tummy area and narrow at the shoulders. As the side-on photo shows, this bear has no hump but does have a comparatively small head with long flat ears on each side rather than smaller ears towards the top of the head like so many other bears.

He's in very good condition but has no label and no distinguishing marks that I can see. I believe he may be a Merrythought but only because this has been suggested to me. His body feels as though its filled with rice (or similar) and his limbs feel as though they're stuffed with kapok. This leads me to believe he's more of a modern bear than an older one. He's very heavy bear, around 750g and measures 17 inches tall.

I've attached three photos and hope they're clear enough to illustrate this bear's peculiarities. I look forward to hearing more about this bear.