Very Old teddy Bear Needs ID
by tony
(sheffield uk)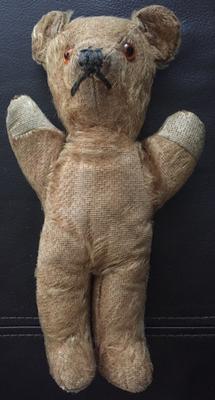 Very Old teddy bear
hi. i have this very old bear. i know very little about it so i'll try my best to describe him.


his eyes are on wire stalks just like the ones on your page, he's lost most of his hair but to test i cut a very little bit from under his leg, it turned to ash and smelled just like burning hair. he is approx 26cm high. looks to have been repaired on the back. his head feels like it's stuffed with straw? (crunchy and firm). his body feels firm too but not crunch. maybe it's had all the crunch squeezed out of him? or maybe he's been refilled at some point?
there are no labels or tags so any help with be much appreciated
thank you!!
Join in and write your own page! It's easy to do. How? Simply click here to return to I.D Your Bear.
If you enjoyed this page, please consider sharing
 it with your friends: