vintage bear vintage teddy
by Leslie A. Schneider
(Ft. Pierce, Florida)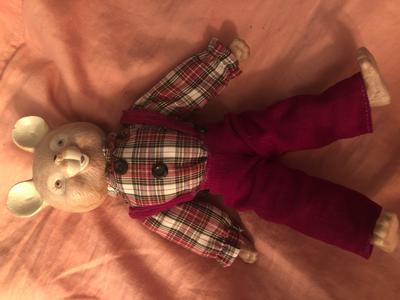 vintage bear
My teddy bear is about 11 inches tall.


It has a porcelain head about 3 inches wide and 2 1/2 inches tall.
The ears are an additional 1 inches adding to the height. The inside visual of the ears is that they are beige-same as-eyes, which are not painted like the head.
The ears are round and sit at 1 o'clock and 11 o'clock.
The eyes are painted with 2 eyelashes which sit inside circles that are not painted.
The bears arms are porcelain up to the forearm with paw pads defined.
The bears legs are porcelain up to the knee with human looking feet, the feet in length are about 1 1/2 inches long.
The body of the bears is stuffed securely in beige fabric with a thin layer of pillow stuffing to make chest bulky.
The bear has a hand sewn red, black, white shirt with two black buttons sewn down front of shirt.
The shirt is not removable.
Over the shirt is a pair corduroy pants with suspenders which each have same shirt buttons dawned on pants for accents.
The pants are hand sewn and removable.
The beige fabric with body stuffing is secured to the legs with some type of thread.
The porcelain head arms and legs are carved and painted for the illusion of hair.
The bear snout and nose protrudes from face, the nose has a single black dot and mouth appears open with a mauve oval dot to appear as a tongue.