Vintage Bears From Bing
Vintage bears from the Bing Company can look rather like early Steiff bears. In fact early on there were legal proceedings taken by the Steiff company to protect their brand and help to distinguish their bears from Bing's,  by preventing Bing using a button in the ear as their trade mark.
Guide to this page
Bing Teddies are certainly considered collectible bears and the early bears do come under the heading of antique teddy bears. If you are considering seriously collecting teddy bears then a Bing bear is certainly one to look out for.
---
Here are the current antique bears listings For Bing teddy bears on eBay
Please click on the Images for further details.

Bing Teddy Bears - Distinguishing Features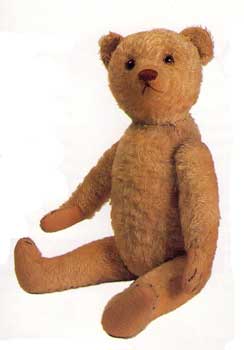 1920's Bing White Teddy Bear
Early Bears
Small ears set wide apart on the head
Black button eyes
Small nose and mouth
Jointed limbs
Curved paws
Rotating head
Made from Mohair
Final seam is on the front of the body
Flat feet
Fat bodies stuffed with wood wool
Silk claw stitches
 Later bears 1920's - Some had
 Shaved muzzles
Pointed heal pad
Glass eyes
 Mechanical Bears
Both dressed and undressed
Many forms such as skating bears and acrobatic bears
Trademarks
Very early Bing teddy bears had a metal shaped signal in the ear, these were changed after legal proceedings taken by Steiff. It is very rare to find antique teddy bears from Bing with this tag. 
Early bears (1910) - Metal tab marked G,B.N under the arm
1919 -1927 - red tag marked B.W
1927 - 1932 - blue metal tag marked B.W found on wrist or under arm
Early Bing Mechanical bears carry a metal button on their bodies marked DRPDIVDRGM - this is a patent pending mark.
---
If you enjoyed this page, please consider sharing
 it with your friends:
Back to top of this Vintage Bears Page
Back to Antique Teddy Bears Main Page
Back to Teddy Bears Home Page