Vintage German Teddy Bear - what make?
by Barb
(Port Hardy, BC, Canada)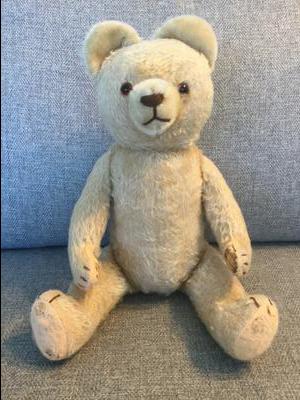 Can anyone identify the make of this German bear? Does it have any monetary value and if I get the pads replaced will that lessen any value?


I received this bear when I was 2 years old and visiting with family in Germany. I have a photo dated 1958 with myself and this bear in it, so since it appears new then that should be the age of the bear. The photo shows some sort of ribbon or collar around it's neck which the bear no longer has. I don't think this is a Steiff bear because it never had a tag or button in it's ear. He has a growler that still works when you tilt him back and then forward. His arms, legs, and head all move. He has felt pads on his hands and feet which are all embroidered with three claws. The hand pads are worn through exposing the straw-like or wood shaving stuffing. The body has a front and back seam and the legs have a seam on the top and the arms underneath. He has a long firm snout. The nose has brown horizontal stitching and the mouth extends down in an upside down y. I don 't know that this is a Bing bear either, because the ears are rather close together. They have short hair on the front, similar to the snout and longer fur on the backside. I assume the fur is a mohair. Overall he measures 17 inches. His body is 7 inches, his head is 5 inches, and legs 7 inches.