Vintage Glow Stuffed Toy
by Antony Bernardo
(England)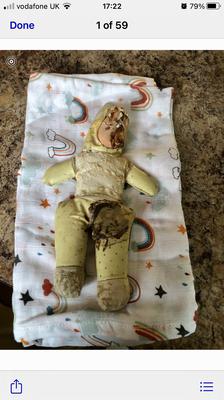 Front
Hello,

My mother received this toy doll(?) in the 1960s in Scotland. It glows in the dark very vividly to this day. As you can see in the pictures the face is heavily damaged now and the body has some dark marks on it from previous repairs.

It's possible the dolls has come from outside the uk, but we have no real evidence of it's provenance. There's no makers mark on it that we can see, but this could have been lost decades ago

I'd love to understand where this doll came from and any other information.