Vintage Large Bear unknown Maker
by Gillian
(Norfolk UK)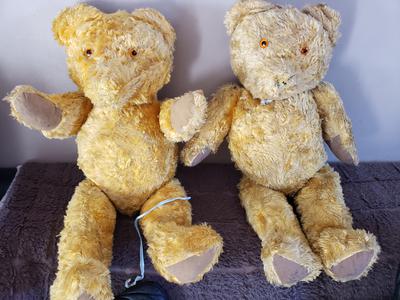 I have two identical large bears of Approx 23 inch tall. They have golden fur and feel like they are stuffed with wood shavings ( very stiff ) The backs are flat and the snout is pronounced.


No stitching remains on the nose. The paw pads on the feet are triangular . They have a slightly velvety feel but don't look like velvet. They might be suede.
The eyes are small and look like glass - However they don't feel cold as I would expect. I can get my fingers behind them but I can't see if they are screwed in or on a wire. They do feel very secure though.
Both teddies have a ribbon round their necks.
There are no traces of labels or makers marks.
There is staining and dirt on the bears making them more dull in colour.
The true colour can be seen in the ear crevices ( nice and golden ).
They were bought from a UK auction ( Norfolk ) in a mixed lot . The other items in the lot were from the 1930's to 50's. This was a recent purchase so I have not owned them for long. They have been bought with the intent of selling on so I really need an idea of age and value.
The eyes are half an inch in size.
The legs are 10 inch.
The paw pads are 3 inch long and mid brown in colour.
The fur fibres are half inch long.
I burnt a small piece of fur (I placed a small piece of fur on a hot plate ). It did not melt but slowly turned from brown to black. There was no plastic smell or sticky residue. I think it is a natural fibre). Most likely mohair.