vintage panda teddy bear from the 60's
by Cathy Rich
(Beausejour, mb. Canada)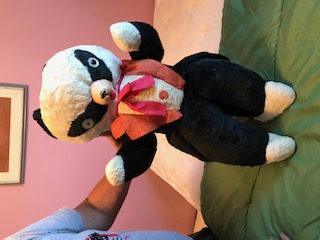 vintage panda teddy bear from the 60's
This bear was my cousins bear. He won it at the red river exhibition in Winnipeg, Manitoba in .the 60's sometime . I always liked it. Every time I went over to my aunts house I always asked if I could have the bear , but she always replied sorry my dear but that bear is billy's and I cannot give him to you. Later in years my aunt passed and my cousins asked if I would like the bear because he knew I liked it and I was very happy to finally be the proud owner of the panda bear. The bear has a eye missing which my aunt replaced with a button , Stands 30 inches tall including the ears. He's wearing a tuxedo and also has a hard plastic snout on him . . He spent most of his life in a clear plastic bag on my aunts bed.It could use a professionals touch in the way of a good cleaning and slight restoration , such as a new eye and perhaps a new button like object on the front of him. I really love him and hope you love him too! I almost forgot to tell you his name Its Andy, yes Andy Panda from Canada!!!


Thank You for listening to me about my teddy!
Cathy Rich
Join in and write your own page! It's easy to do. How? Simply click here to return to I.D Your Bear.
If you enjoyed this page, please consider sharing
 it with your friends: