Vintage Teddy Bear Musical Plays Brahms Lullaby
by Patricia
(UK)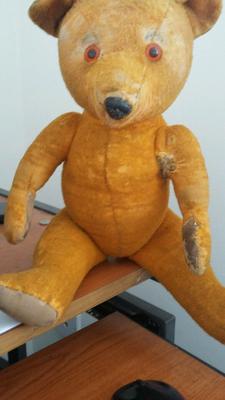 Musical Teddy Bear
I have just purchased this lovely little bear and would love to know something about him if any one could please help that would be great as I felt I must have him as soon as I saw him I wanted to own him or should I say be is new keeper .


This dear little bear has been such a well loved Teddy as can be seen by his pictures he has almost been loved to death . 
He is 16 inches tall and his fur is a golden colour I would think he would have had a plush fur coat in his day which is now very worn but he has worn well with only one hole but I think all this adds to his charm .
Poor little thing has a this one burst under his arm and his pads are a bit worn all due to all the love he must have received over the years which I think is all in keeping with his vintage years as I am sure he cant be new . He has nice clear eyes and a black plastic nose, his nose is also not in great condition poor chap.
The snout is quite sharp looking and a little out of shape I am not sure if this is how it was meant to be or again just happened over the years with all the love he has received .
Ted has a key at his back which plays Brahms lullaby when it has been wound up. This still works very well.
I am not sure what his filling is but his head does seem like the straw wood when I squeezed him .There hasn't been any repairs as far as I can see, I just think he's such a cute little bear .I am not a bear collector but feel I may now have the bug and might have to buy more friends for little ted .
Thank you for taking time to read this sorry its so long but a little hard to write 400 words about something you know very little about .
Best wishes
Pat x