Vintage Teddy Bears
from Chiltern Toys
The most valuable vintage teddy bears made by Chiltern was known as Master teddy. He was the first bear they made in 1915 and was fully dressed in trousers and jacket or shirt. He has a very distinctive look with rather bulging eyes and is made with a Mohair head and limbs and fabric body, needless to say he is a very rare find. 
Guide to this page
Hugmee bears were the most popular Chiltern bear and were first made in 1923. These bears were made for some time but of course the early Hugmee bears are the most sought after.
---
Here are the current Vintage teddies listings For Chiltern bears on eBay: 
Please click on the Images for further details.
Chiltern Vintage Teddy Bears - Distinguishing Features
Early Bears and general features
Large clear Glass Eyes with black pupils
Head stuffed with wood wool
Body stuffed with Kapok
Ears are cupped
Fully jointed
Long arms with spoon shaped paws
Velvet pads
Claws are silk stitched
Made from mohair
Shaggy coloured mohair was popular in the 1920's and 30's
Stitched noses with long upwards stitches
Later Bears
Large brown glass eyes 
Cotton Pads
Mainly un-jointed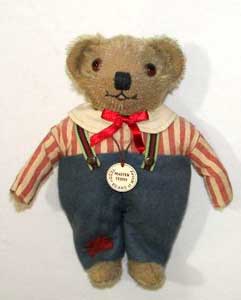 Mainly made from synthetic fibres
Flatter faces
Shorter arms and legs
From the 1960's plastic noses were used
The 1950's and 60's saw many new designs come from the Chiltern Toy works, these included:
Musical bears
A ting a ling bruin
The Cubby bear, a standing musical teddy 
The use of coloured synthetic materials
Foam filling
Trademarks
The Chiltern trademark was first registered in 1924 
A vintage bear from Chiltern will carry a simple label which reads "Chiltern, Hygienic Toys, Made in England". 
When the company was taken over in 1967 by Chad Valley, a label which read "Chad Valley Chiltern Hygienic Toys Made in England" was used for a short time.
If you enjoyed this page, please consider sharing
 it with your friends:
Back to the top of this Vintage Teddy Bears Chiltern Page
Back to main Antique Teddy Bears page
Back to Teddy Bears Home Page