Well Loved Bear
by Jodi Queen
(Roseville, CA)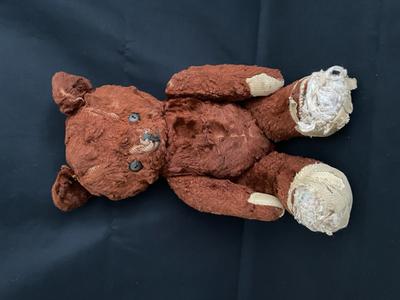 well loved bear
This well-loved bear belonged to my brother.
My grandparents gave it to him on his First Birthday in 1948.
He is Cinnamon in Color, Approx. 20" Tall, Head, Arms & Legs are Jointed,
has Button Eyes, Stitched Nose & Mouth & Knitted Fabric Pads on his Arms & Feet
(What's Left of it).
My brother had no children so when he passed away in 2005, I "inherited" this bear as I
just couldn't bring myself to donate it or throw it away.
Any information as to it's maker and/or value (if any) would be greatly appreciated.
Join in and write your own page! It's easy to do. How? Simply click here to return to Other Color Teddy Bears.
If you enjoyed this page, please consider sharing
 it with your friends: