We've been together now for 65 years!
by Jane
(Littlehampton, West Sussex, England)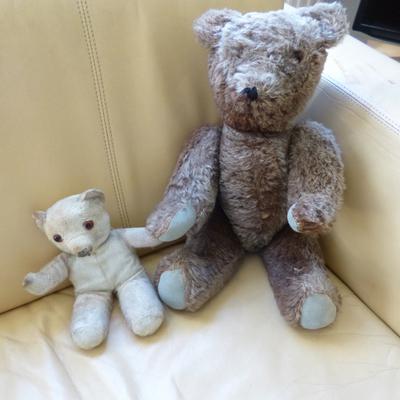 65 year old teddy bear
This brown bear was given to me when I was a baby and although he has one eye and has lost his squeak, he still has an appeal. His little friend is also the same age but has managed to retain both eyes. Brown bear is a bit crispy and his fur is quite rough but his arms and legs move well. His head also turns round completely. I think he might have had a bow round his neck originally. He has a few bald patches, whereas little friend is almost bald.


He has a nose and I can still see the black mouth under the fur. Both nose and mouth are of black wool or similar. The brown bear is 50 cm tall (to the tops of his ears).
The little bear was originally pink and white and has a little stub tail.
Both teddy bears are at least 65 years old, but unfortunately, I have no idea who the manufacturer was.
I haven't seen a brown bear or pink and white bear quite like them yet.
Can anyone give me any information about them?