What brand and how valuable is my teddy bear?
by Zoe
(New Zealand)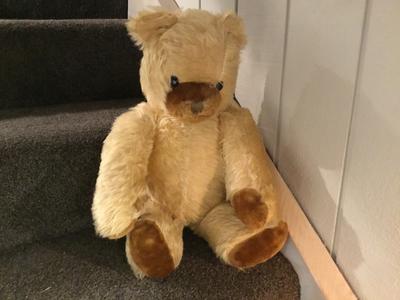 Two colour teddy bear
I was given this Teddy Bear when I was a small child. The teddy bear is quite large, and in excellent condition. There is no damage to eyes, face, ears, nose, limbs, or paws. The eyes are a hard like boot button, and black. Both eyes are attached with a white string. He is definable stuffed with some sort of straw, it does make a noise when squeezed (the stuffing) a sort of crackling. Inside is a box that use to growl when the bear is tipped upside down. It does not growl like it use to, but there is still a slight growl. The body and face fur is a light golden colour. The paws are a plus hint lovely dark golden colour. All the limbs are jointed and move very well. The legs and both arms can fully rotate. Does anyone , or can anyone tell me the brand and how old this bear is and estimated value please.