What is my bear worth and what was the original retail price?
by Lisa McKinney
(Savannah, GA)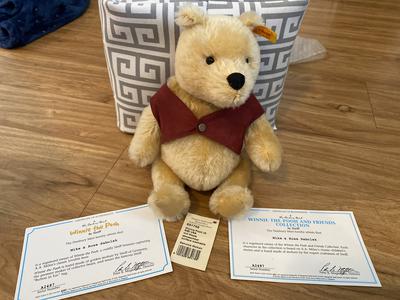 My elderly mother who lived by herself decided she could no longer care for her home by herself. She decided to sell her home and gave the majority of the contents within it to me and my siblings. I was given a great deal of collectible items she and my dad acquired while living in Europe in the late 80s early 90s. I noticed one of the items was a Winnie the Pooh bear, and after researching the information on the attached ID tag, I came to realize that it might be a valuable item. We lived in Germany from 1988 until 1991, which is when and where this bear was purchased. As my mother is suffering from dementia, she has no recollection of buying this bear, so the only information I have on it's history is what's given on the ID tag. The top of the tag says Margarete Steiff GmbH Alleenstrasse 2 D-89537 Giengen/Brenz. In all bolded words under the address, the tag has the number 651755 followed by Winnie Pooh 25 MBI USA mit Weste abwaschbar surface washable Genuine Mohair.


The bear has a Steiff button tag in his ear and also comes with certificates of authenticity and registration with a serial number of A2487, done by The Danbury Mint.
I live a much more minimalistic lifestyle than what my mother lived so I am not interested in keeping any of these collectibles that I inherited. I simply want to find out what the original purchase price was, what they're worth now, and How to sell them four what they're worth.