What is my bear?
by Zailie
(New Zealand)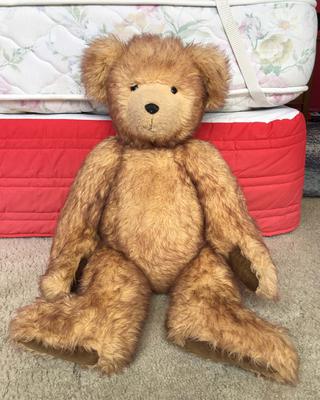 Teddy Bear sitting
Hi, I bought this teddy at an op shop a few years ago and was wondering about him and what he's worth, could anyone please help me?
He's quite large and has interesting fur, slightly rough with different colourings on the end of it. He has pads on his hands and feet that are soft to the touch. Hard to tell if his eyes are glass or plastic. His joins all have a metal or plastic band around the ends of them where they go together - his head is a bit wobbly and usually stays on a lean. All his joints can be moved. Any help is appreciated, thanks!
Join in and write your own page! It's easy to do. How? Simply click here to return to I.D Your Bear.
If you enjoyed this page, please consider sharing
 it with your friends: