What is the origin of my teddy? Please help me!!
by Sehiri Castañeda
(Nuevo Casas Grandes, Chihuahua, México)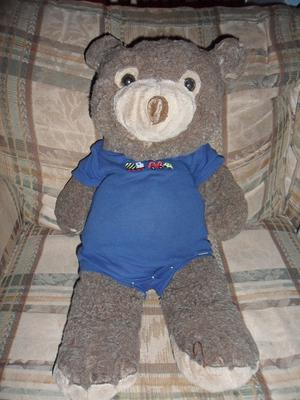 My black tbear
When I was 7, my dad gave me a black teddy and quickly became my favorite. I got it when I was little and I played a lot with it, so that today is very sloppy but I still love him with all my heart.


Now I am 21 years old and with Internet access I became interested in knowing the origin of my teddy, but after looking intensely I could not find anything. Maybe my teddy does not come from a good brand but I remember him had a label, but cannot remember the brand.
So I decided to publish his photo on this page and be so grateful that someone could help.
P. D. The name of my teddy is Osi and I think the label said that him is made in USA, but that was so long ago, that I'm not sure.
He don't have any clothes but I decide to dress him because his fur is tumbling.
Sorry for my bad English and thank you, I hope someone can help me, it would be very important to me.
Reply
Hi, well I must admit he is not a bear I have seen before. The fact that he is not jointed and his fur looks synthetic, would suggest that he may just be a mass produced bear of no real origin. That of course does not devalue him at all as a bear, it only means that it is unlikely that he comes from a bear making or toy company. More likely he came from somewhere like Wal-Mart, who would have bears made for them.
However i could be completely wrong and there may be someone out there perhaps in America which has either seen or owns this bear themselves and knows exactly where he came from and who may be able to help you.
Black ears are less common and so even though he may end up being a mass produced bear the fact that he is Black could make him more valuable in the future. I like the look of him myself, packed with character I would say. Kate
If anyone else can help please add a comment, thank you.