What is this bear
by Maddy
(Isle of Wight, England)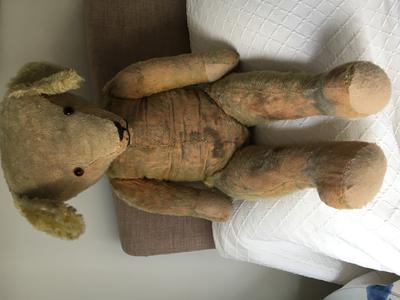 Hello bear experts

Can you please help to identify the bear that I have sent photos of. The bear was given to my late mother when she was a baby or small child and she was born in London in 1926.
The bear measures 31" in length, the arms are 10" and legs ar 14" at their longest points. All limbs are moveable. It has a hard body so presume it is stuffed with wood shavings. It has a seam both on its tummy and back. It also has a rather long, pointy snout. I'm sure it had a growl at one stage that is no longer working but it does make a noise when its back is tapped. Not entirely sure if its ears are the original ones, but they do have some 'wear and tear' so maybe they are. There is no stitching on any of the paws.

I can't really give you much more information but would love to know its origins and likely value if any.