What is this little teddy bear?
by Jess
(UK)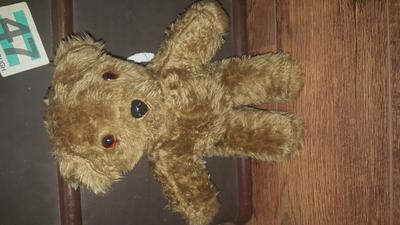 Little Teddy Bear
I saw this teddy at a car boot sale a few weeks ago and I immediately noticed how alike my grandmas bear he was. My grandma was born in the the 1930's. I didn't get to take the bear when she passed away so I knew I had to buy him! And it was only £1.00, I couldn't leave him there. I don't know much about a bears characteristics so I'll just not down what I can see in the hope that someone might know what he is!
Light brown hair
Glass round eyes, black centre and orange outer
Black plastic nose
Non moveable limbs
A stitched number 16 in ear
Not sure of inner material but he scrunched when squeezed
Hand stitched
Length 40cm
Hopefully someone can help me out?
Thank you.

Join in and write your own page! It's easy to do. How? Simply click here to return to I.D Your Bear.
If you enjoyed this page, please consider sharing
 it with your friends: