What is this type of bear called? How old is it?
by karol
(Texas)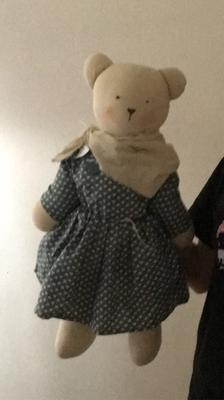 I recently got these two bears, I got them from an estate sale actually, it was old people getting rid of their stuff for a very cheap price so when i saw them both i fell in love. One of the ladies told me they were twins, the girl, who i'm assuming is the sister, is wearing a blue dress that has tiny polkadots and white hearts on it, she also wears a scarf of some sort. Her brother wears blue shorts, same pattern on the dress for his shirt, and a white and blue tie. I asked her how old she thought they might be and she said not very old but definitely had some age to them, however no one could remember when they got them or what the name of them were, or if they ever had names. Please help, I want to know more about these two!
Join in and write your own page! It's easy to do. How? Simply click here to return to I.D Your Bear.
If you enjoyed this page, please consider sharing
 it with your friends: