What kind of Russ teddy bear this is?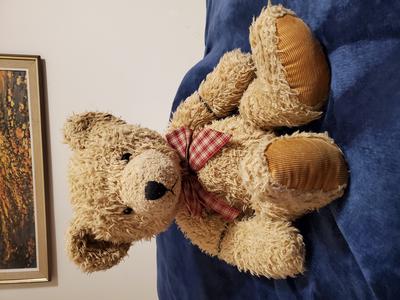 Russ teddy bear
I got this teddy bear sometime between '98 and '05 I think. I'm pretty sure it is a Russ bear but I know that they all have individual names. I must have cut the tag off of him when I was smaller because I cant find one on him and I've been known to do that upon receiving any stuffed animal. Anyways, he's a great teddy bear and hes the only one I've ever had because I have always preferred stuffed animals with tails. (I don't know why) Now I have donated the majority of my stuffed animals and the rest are in storage but my teddy is the only one I still sleep with. Most nights he ends up on the floor but I do love him. Anyways, I was just wondering if anybody could tell me more about him. Like I said, I've done a little research and I think he is a Russ but I don't know his name. I've just always called him Jeffrey.
Join in and write your own page! It's easy to do. How? Simply click here to return to Brown Teddy Bear Pictures.
If you enjoyed this page, please consider sharing
 it with your friends: